This mountain bike has it all: 18 gears, a Shimano Deore groupset, but again DiaCompe cantilevers. So we're almost there!
Seriously though, this aluminium bike, with its super-fat tubes, the smoothed-out welds and the unicrown fork, looks like some kind of cannon, with which you can conquer any mountain.
In the logo on the head tube you can recognize the contours of the station of Cannondale. The company started out in this Connecticut village. Back then not with bicycles, but with tents, backpacks and cycling bags.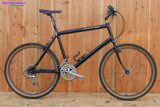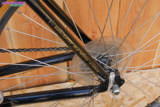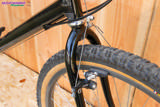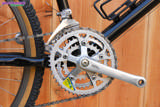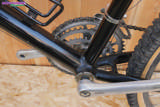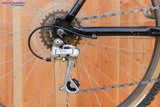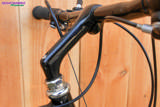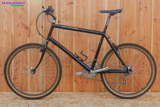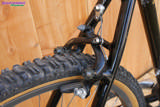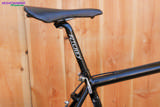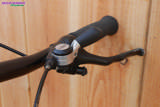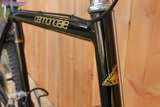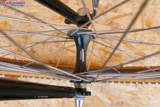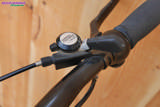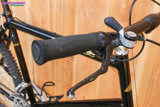 | | |
| --- | --- |
| Brand name | Cannondale |
| Brand country | USA |
| Number | 456 |
| Model name | SM 700 |
| Model year | 1988 |
| Frame | Cannondale welded aluminium |
| Framenumber | 22021688024 |
| Fork | Tange Unicrown Cr-Mo |
| Stem | Sakae MTS-300 |
| Handlebar | Cannondale 6000 |
| Headset | Tange Falcon |
| Shifters | Shimano SIS SL-MT60 |
| Derailleur front | Shimano Deore FD-MT60 |
| Derailleur rear | Shimano Deore RD-MT60 |
| Brake levers | Dia Compe 290 |
| Brake front | Dia Compe NGC982 cantilever |
| Brake rear | Dia Compe AD990 U-brake |
| Crankset | Shimano Deore FC-MT60 |
| Chain wheel | BioPace 48-38-28 |
| Bottom bracket | Shimano |
| Cogs | 6 sp freewheel |
| Front hub | Sansin LF |
| Front rim | Araya RM-20 |
| Front tire | Wolber Transalp 26x2.10 |
| Rear hub | Sansin LF |
| Rear rim | Araya RM-20 |
| Rear tire | Wolber Transalp 26x2.10 |
| Seatpost | Ritchey |
| Storage location | 1 |