Cannondale was one of the pioneers of welded aluminum frames with oversized tubes. Also in terms of construction, this all-terrain bike was ahead of its time in 1986 and is an example of 'East Coast Geometry', with a high bottom bracket and a sloping top tube.
In the late 1980s, views on geometry were still divisive in the American mountain bike world. On the east coast, the shape of the ATB started to evolve into the profile we are familiar with today, while on the west coast people stuck with the traditional horizontal top tube.
The fact that it was not yet clear where things should go is shown by the fact that the SM 800 also existed in a version with a 24" rear wheel. For a shorter wheelbase and better traction, as was claimed.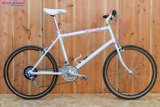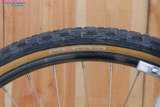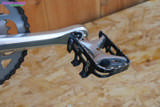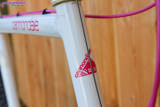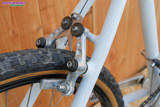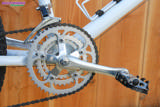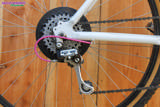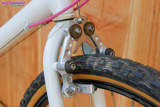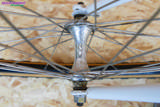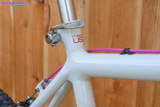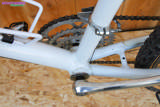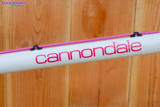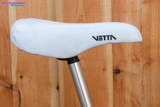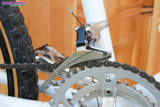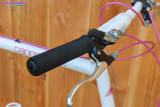 | | |
| --- | --- |
| Brand name | Cannondale |
| Brand country | USA |
| Number | 449 |
| Model name | SM 800 |
| Model year | 1986 |
| Frame | aluminium, welded |
| Framenumber | 22032786034 |
| Fork | Tange unicrown, Cr-Mo |
| Stem | Nitto MT6 |
| Handlebar | Cannondale 7000 |
| Headset | Shimano Exage |
| Shifters | SunTour 6 sp index |
| Derailleur front | SunTour XC 9000 |
| Derailleur rear | SunTour XC 9000 |
| Brake levers | Dia Compe 280 |
| Brake front | SunTour XC Sport Roller Cam |
| Brake rear | SunTour XC Sport Roller Cam |
| Crankset | Sugino GP110 |
| Chain wheel | 48-36-28 |
| Bottom bracket | Sugino |
| Cogs | 6 sp SunTour Winner freewheel |
| Chain | Sedis |
| Front hub | SunTour XC Sport |
| Front rim | Araya RM-20 |
| Front tire | Panaracer Ibex 26x2.00 |
| Rear hub | SunTour XC Sport |
| Rear rim | Araya RM-20 |
| Rear tire | Panaracer Ibex 26x2.00 |
| Wheel size | 26" |
| Seatpost | Strong PM 30 |
| Saddle | Vetta |
| Storage location | 1 |